Would like the dolls house to have a bedroom now and I have some ideas....A bed, cabinets, drawers, table, chair, linen box....I possibly have planned too much and there won't be room!
Only problem is that I don't have the wood stain that I want (mahogany) or the fixtures I need. Can't decide what fixtures I want at the moment so furniture is on hold. However I have lots of material and thread and I can sew...ish!
I want the bed to have a patchwork quilt cover....I have made a patchwork quilt before when I was expecting my daughter. I made it the old fashioned way by wrapping squares of material around squares of card and tacking them with thread, then joining all the squares together at the edges with tiny stitches and then removing the card. Very tedious work. I have a sewing machine and although I did a patchwork course years ago I am still not brave enough to tackle the sewing machine. So stitching by hand it is...and anyway I can't possibly stich 1/12 squares by machine!!!!
Hunting through the material scraps I was looking for shades of green and perhaps some red and I came across the leftover material I used for the patchwork course - How great to make a quilt out of something that was a lovely memory...it consisted of red tartan, beige tartan, plain red and beige with tiny flowers...also found a lovely green and the leftover cream material from my daughters baby quilt.
I did find a lovely quilt pattern of diamond shapes that when sewed together formed a flower pattern, but after cutting the card I knew I couldn't sew something that small, it was way too fiddly. Instead I did squares...boring maybe but I had to keep it within my capabilities here. I chose the material I wanted and designed a simple pattern (took me three or four attempts to get it right) - drawing it on paper and colouring it in to show me which squares were what and where. Then sew sew sew....very boring and as of yet not completed! It might be the last thing I do complete!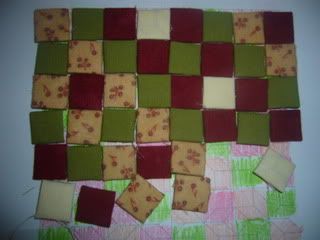 Getting bored with the quilt I needed something new but wanted it to be for the bedroom....a cushion for the bed or chair? I collected some colours from my embroidery cotton box and checked that they would go with the quilt - they did (sort of) well it was the best I could do without shopping for new cotton.
I found a pattern for a carpet in a book and based the cushion design on that, first placing the material in a hoop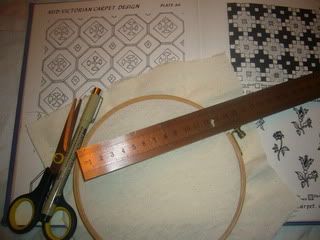 Drawing the square cushion outline
Sewing the outline
Filling in detail
Looks ok at the moment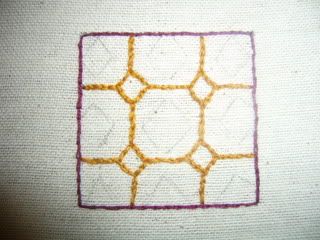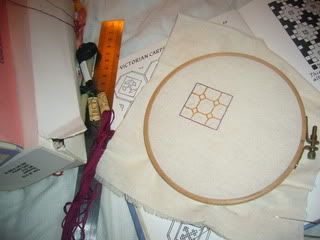 YUK!!!! don't like that now! All the lines are wonky and I don't like the colours after all....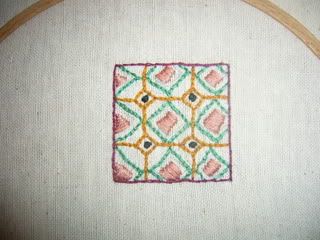 So I made a cushion for the living room which will be cream and blue. This is based on a cushion I used to own.
....and now back to the quilt..unless of course I can find something else to do!